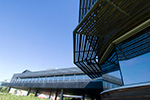 Oxides constitute the most versatile class of inorganic materials, and single crystals provide superior as well as homogeneous properties. Such crystals are used as optical, piezoelectric, or laser materials, and as substrates for piezoelectric and oxide electronic applications. As oxide crystals appear in many crystallographic structures and can be formed from nearly every element in the periodic table, the preparation of novel materials as well as the improvement of their structural quality is key for providing materials with improved or even novel characteristics.
This 6th German-French Workshop on Oxide, Dielectric and Laser single crystal (WODIL) is a continuation of the DGKK meetings on "Crystals for lasers and NLO" and previous workshops organized at FEE in Idar Oberstein (2011, 2014), ISL in Saint Louis (2012, 2015) and IKZ in Berlin (2016).
In 2017, the present workshop WODIL will be held for the first time at the Institute of Condensed Matter Chemistry of Bordeaux (ICMCB). It is organized by the CNRS network CRISTECH (Crystal Growth Technologies) under the aegis of the French Association of Crystallography (AFC) and the German Society of Crystal Growth (DGKK). Moreover the CNRS network CMDO (Micro-nano-structured crystals and optical devices), ICMCB, the Région Nouvelle Aquitaine and the University of Bordeaux are associated to this event.
This workshop brings together scientists and scholars from industry, research labs, and universities to present and discuss the recent advances in the field of oxide crystals, dielectric materials, laser and non-linear optical crystals, solid-state lasers, and related topics.
We are looking forward to welcome you in Bordeaux!

Anyone interested in the workshop topic is cordially invited to participate and to present her or his interesting scientific results (15 to 25 minutes).

Willkommen !
Unter den anorganischen Materialien bilden Oxide eine vielseitige Klasse, die in einkristalliner Form homogenere und in einigen Fällen vorteilhaftere Eigenschaften als entsprechende polykristalline Keramiken aufweisen. Einkristalle werden beispielsweise in Anwendungsgebieten wie Optik, Piezoelektrizität, Laser und auch als Substrate für elektronische oder piezoelektrische Schichten eingesetzt. Da oxidische Kristalle zahlreiche verschiedene kristallographische Strukturen haben und fast alle Elemente des Periodensystems enthalten können, spielen die Entwicklung und laufende Verbesserung deren strukturellen Eigenschaften eine wesentliche Rolle, um die Verfügbarkeit von Materialien mit optimierten oder sogar gänzlich neuen Eigenschaften zu gewährleisten.
Das 6. Deutsch-Französische Treffen mit dem Thema "oxidische, dielektrische und Laserkristalle" (Workshop on Optical, DIelectric and Laser Crystals = WODIL) folgt auf den vorangegangenen DGKK Workshops des DGKK Arbeitskreises "Kristalle für Laser und Nichtlineare Optik" und entsprechenden thematischen Treffen, die in Idar-Oberstein am FEE (2011, 2014), in Saint-Louis am ISL (2012, 2015) und in Berlin am IKZ (2016) organisiert wurden.
Im Jahr 2017 wird das WODIL Treffen zum ersten Mal am "Institut de Chimie de la Matière Condensée de Bordeaux" (ICMCB) durchgeführt, unter der Regie des Arbeitskreises CRISTECH ("Techniques et technologies de la croissance cristalline") des CNRS und mit der Unterstützung der "Association Franҫaise de Cristallographie" (AFC) und der Deutschen Gesellschaft für Kristallwachstum und Kristallzüchtung (DGKK). Der Arbeitskreis CMDO ("Cristaux Micro-nano-structurés et dispositifs optiques") des CNRS, das ICMCB, die Region Aquitanien und die Universität Bordeaux sind ebenfalls an diesem Treffen beteiligt.
Das Treffen hat zum Ziel, Wissenschaftler und Forscher aus Industrie, Forschungslaboratorien und Universitäten zusammenzubringen, um neue Entwicklungen auf den Gebieten der oxidischen Kristalle, der dielektrischen Materialien, der optische nichtlinearen und Laserkristallen und der Halbleiterlasermaterialien vorzutragen und zu diskutieren.
Wir freuen uns, Sie in Bordeaux zu empfangen!
Alle Personen, die sich für die Themen des WODIL Treffen interessieren, sind herzlich eingeladen, am Treffen teilzunehmen und ihre wissenschaftlichen Ergebnisse (in Form eines mündlichen Beitrags oder eines Posters) über das online Portal zu präsentieren.